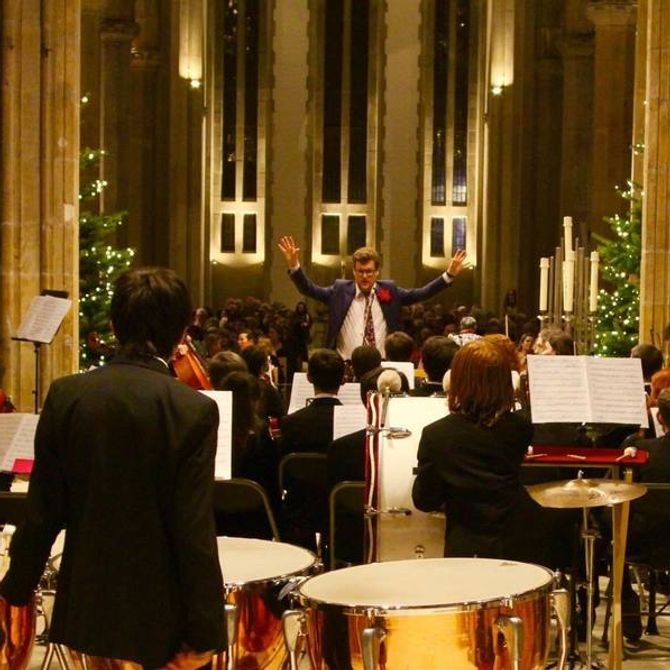 Welcome to Sheffield Youth Orchestra
SYO is South Yorkshire's longest-running indepedent youth orchestra. Since 1964 we've led the way in developing young musicians through outstanding training and performance opportunities across the Steel City. Come and join the music today!
We rehearse term-time between 10:00am - 12:30pm on Saturdays
2 hours of rehearsal with a 30 minute refreshment/social break
Our rehearsal space is the Central United Reformed Church in Sheffield
Our Vision
The four steel pillars of our vision are:
Outstanding Music Making -

We strive to provide unique performance opportunities at a range of venues in Sheffield. The repertoire we explore is ambitious,engaging and broad - with a particular focus on classical music composed in the past 100 years. Sheffield Youth Orchestra is an excellent accompaniment to a young musicians work in KS3, GCSE and A-Level music placing theory into practice. It's the perfect stepping stone into further education and professional music making.
Developing Young Musicians -

For many young musicians, this may be the first time engaging with a full-size orchestra. Because of our longer rehearsals, we don't just focus on how and when to play the instrument. Musically, we also look into developing musicianship, learn about conducting and composing for small ensembles. This is in addition to instilling confidence and teamwork skills in our young players through our performing and social programme.
Community Engagement
-
Youth Orchestras hold great responsibility in the community. Not only to inspire the next generation of players, but also to bring communities together. That's why we focus our performances and community days on bringing families, schools, teachers and local musicians together to share our love for music. In addition, we collaborate with local charities to give back to the local community.
Accessible to All -

We appreciate that music education can be expensive. That's why we are committed to reduce joining fees to a minimum. As a charity, we offer bursaries for families that request it and offer scholarships for lessons and instrument hire for uncommon instruments. Our community events will always stay free, in order to provide a platform for like-minded musicians to come together and engage with exciting repertoire.
Our Conductor
River Edis-Smith is a multi-disciplinary musician who is musically curious and polyglot. His recent studies in MMus Music at the University of Surrey and his work as an educator (through classroom teaching, workshops and private tuition) has lead to many professional engagements as a violin player, conductor, composer and teacher. 

His approach to conducting has been shaped by experiences performing as a violinist in ensembles such as the Hallé Youth Orchestra and Amadeus Orchestra. His previous four year tenure as a conductor of the University of Surrey String Orchestra has encouraged further engagements with local communities – collaborating with schools and charities to promote music education for all through newly founded initiatives. 

River is an accomplished composer whose music connects with diverse contemporary idioms such as multimedia installations, algorithmic compositions and mixed ensemble chamber music. His first recorded album 'Harp' was a culmination of his Masters in Music awarded in November 2022.

River is excited to be returning to the North of England for his new role as the Director of Music with Sheffield Youth Orchestra. Beyond the baton and his violin, River is a secondary school maths teacher where his students know him as 'The Mathmusician'.